Intro troupe
Unidentified instrumental (Ray Charles Orchestra)
Intro Raelettes
Running Out (ft Mable John)
I Want To (Do Everything For You) (The Raelettes ft Mabel John)
Chain Of Fools (The Raelettes)
Zig Zag (Ray Charles Orchestra)
Intro Ray Charles
Unidentified instrumental (with Ray Charles Orchestra) (solos Blue Mitchell – tp; David Newman – ts; Ray Charles – p)
The Bright Lights And You Girl
Georgia On My Mind [First notes only]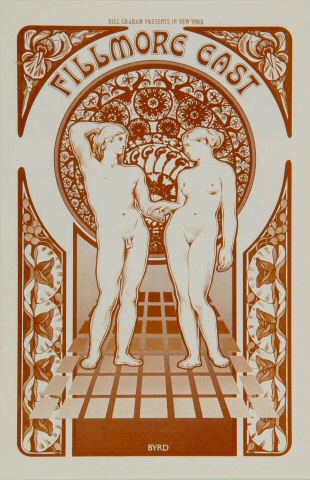 Partial recording of one of the two concerts given by Ray Charles, his orchestra and The Raelettes on 18 April 1970 at the Fillmore East in New York. The trumpet soloist on #9 was Blue Mitchell (who can name that tune?!).
"There was no pulsating light show – just a simple black backdrop. No ear-shattering clear, exceptionally well-bal-overamplification, but clean, clear, exceptionally well-balanced sound. And, at the first of two shows on Friday, there was no full house, either. But the audience […] was enthusasiatic – cheers for Mr. Gillespie and a standing ovation for Mr. Charles", the New York Times wrote on April 19.
Down Beat's Ralph Burton wrote a raving review (printed in the August 6, 1970 issue of the magazine) of Dizzy's and Ray's first concerts that night. He mentions the performance of I've Got A Woman, which didn't make it to (what's left of) the recording discussed here. His story also included the description of a bomb scare incident:
"Ray Charles and the Raelets were scheduled next [after Dizzy], but instead, at about 9:30, somebody stepped to the microphone and said the theater would have to be evacuated for a little while because someone had telephoned in a bomb threat. 'We get these phone calls regularly,' he said, 'and while we don't really expect it to happen, we can't afford to take a chance. So please hold your ticket stubs, and file out the exits quietly.' […]
There was no panic. A little murmuring, and, I imagine, some mixed feelings about the whole thing; but the exodus was orderly enough, and soon the whole crowd was out on East 6th St. (where pipe-bomb 'factories' are not entirely unknown), spilling out to meditate upon the delightful times we live in. […]
There was no bomb – this time.
Back we trooped, […] ready for Ray Charles.
If anyone wants to know, in 1970, where 'the big band sound' went, I can tell him. The contemporary rhythm-and-blues 'soul' people like Ray Charles and James Brown are putting it together every night, and as good as ever. Before Ray himself appeared, his band swung out one blues. Wow. When Blue Mitchell walked down front with his trumpet and started steaming, tough and relaxed, and Dave Newman took off on tenor, I felt like a new man. I felt, in fact, as I had for that final intro-plus-one-note Dizzy had been into for one beautiful instant before he decapitated my soul and walked off the stage. I just can't tell you how that band – 17 glorious pieces – swung."
Personnel:
Musicians:* Blue Mitchell, Bill King, Herbie Anderson, Marshall Hunt – trumpets; Joe Randazzo, Henry Coker, Glenn Childress, Fred Murell – trombones; Andy Ennis, David Newman, Jay Cloyd Miller, Curtis Peagler, Leroy Cooper – saxophones; Ben Martin – guitar; Edgar Willis – bass; Ernie Elly – drums; Kenny Lupper – piano, organ. Raelettes:** Mable John – contralto vocal (lead vocal), Susaye Green – soprano vocal, Estella Yarbrough – alto vocal, Vernita Moss – bass vocal.
* Line-up based on article in Down Beat, Aug. 6, 1970. ** Based on data Wolfgang's Vault.
This recording, one of the most delightful, yet equally frustrating discoveries ever to be found in Bill Graham's vast archive [read this, BS], captures Ray Charles, the Raelet[te]s, and his remarkable orchestra at an extraordinary moment in time. Discovered at the end of the Dizzy Gillespie master reels from Fillmore East on April 18, 1970 […], only the first 25 minutes of the performance seems to have survived on tape. However, it is an astounding sequence, capturing a bit more of one of the most electrifying and legendary evenings of music ever to occur on the stage of the Fillmore East.
Following the introduction, the performance begins with Ray Charles' orchestra cooking up a musical storm on two instrumentals, with a phenomenally engaging three-song showcase of the Raelet[te]s sandwiched in between. Led by Charles' band director Leroy Cooper, this large ensemble kicks things off with a jazzy instrumental featuring the serious wallop of one of the greatest horn sections ever assembled, nearly all of whom would become more recognized individually in the years to come. Cooper and David "Fathead" Newman are the primary soloists here. Their solos are wonderfully expressive, but always tight and economical, serving to enhance the explosive sound of the group rather than showcasing any single musician.
At the end of this sizzling warm-up exercise, the Raelet[te]s are introduced to the stage. This faction of Charles' entourage changed over the years, but in 1970 he arguably hit on the most compelling lineup, thanks in no small part to the return of Mable John, the lead contralto voice during this time. Mable John already had an impressive history by the time Charles convinced her to lead the Raelet[te]s. She was, in fact, the first female artist ever to be signed to Berry Gordy's Tamla label, which preceded Motown by several years. Initially a blues label, her recordings during this time often featured the Supremes as her backup singers, who would become superstars on their own following John's departure from the label. Between 1966 and 1968, she recorded for Stax, releasing six singles including the soul classic, Your Good Thing Is About to End, her most commercially successful record.
The Raelet[te]s sequence begins with a funky, Memphis soul-driven take on Ashford & Simpson's Running Out, one of the singles Mable John recorded for Stax. Although her undeniably compelling voice is the lead instrument here, the voices of Susaye Green, Estella Yarborough, and Vernita Moss are so tightly arranged that they fuse into a powerful singular voice that is undeniably captivating. The Raelet[te]s next tackle the blues with a remarkable reading of the Joe Tex classic, I Want To (Do Everything For You), before concluding their showcase with the deep soul of Don Covay's Chain Of Fools. One of Aretha Franklin's career defining moments when she released it as a single in 1967, Mable John and the Raelet[te]s' performance is equally compelling.
Following the Raelet[te]s showcase set, the orchestra again takes off into One Mint Julep, featuring more incredible horn arrangements, prior to introducing Ray Charles to the stage of Fillmore East. As Charles takes over on piano, everything kicks up a notch and they blaze into another incredible instrumental workout. There are several outstanding solos here, with Charles encouraging Leroy Cooper to take an extended baritone solo that stands out from the rest. Prior to the tape stock running out, one tantalizing song is captured featuring Charles' utterly compelling and emotive vocal, The Bright Lights And You Girl. This is another outstanding performance that seems to effortlessly glide along with Charles' distinctive flare. Following this, one can here the first few seconds of Give It To Me Georgia On My Mind, as the tape stock frustratingly runs out.
Still, what remains is a superb sounding partial document of one of the most legendary performances ever to occur at Fillmore East and no doubt one of the proudest moments of Bill Graham's monumental career.
---